Looking for quality dental care in Acworth, GA?
Dr. Yen Tran, DMD and our staff at Acworth Premier Dental Care are committed to helping the Acworth community achieve optimal oral health. We focus on empowering patients to play an active role in improving the health of their teeth and gums. Our restorative, preventive, emergency, and cosmetic dental services provide your family with the full-service dental care you need. Whether you need a routine cleaning and examination, fillings, a dental crown, dental implant placement, or teeth whitening or veneers, our Acworth, GA practice can do it all!
When you're here, we aim to make your experience a positive one. From relaxing music, optional sedative medications, and friendly staff, to neck pillows to improve your comfort during the examination, we help to create an environment of relaxation. Patients who are at ease not only have more positive dental experiences, but can often receive treatment more quickly, allowing them to be on their way sooner. In addition, our convenient location on South Main Street across from Newberry Park makes it easy to attend dental appointments and quickly get back to your daily life.
We understand there are many choices when it comes to choosing your family dentist. We would love to meet you and show you why Acworth Premier Dental Care offers care you can count on!
When you smile, we smile.
It is our mission to provide the best comprehensive and preventive dental care in a patient-centered care environment. We are committed to create and maintain healthy smiles for our patients. We strive to cultivate a practice that fosters the growth of our team members through continual education and maintaining a healthy work environment. Our team members will maintain the highest quality of care to address the needs of our patients. When you smile, we smile.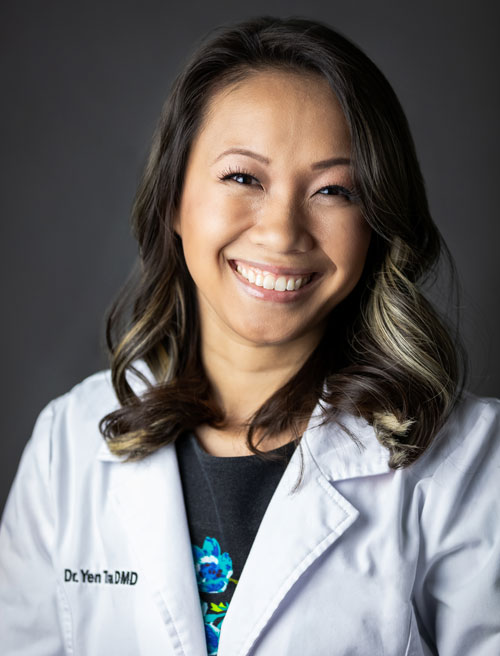 Meet Dr. Yen Tran, DMD
Your family dentist at Acworth Premier Dental Care.
Dr. Yen Tran, DMD was raised in Atlanta, GA. She graduated with a B.S. degree in Biology from the University of Georgia in 2008 and a M.S degree in Biology from Mississippi College in 2009. Dr. Tran obtained her dental degree from Tufts University School of Dental Medicine, Boston in 2013 and completed her AEGD residency from University of Texas Health Science Center at San Antonio, Texas in 2014.
As a family-focused dentist in Acworth, GA, Dr. Tran continues to study extensively to stay knowledgeable about new dental technology, techniques, and research in order to provide the best care possible. She loves getting to know all of her patients at our Acworth dental office and works hard to help them become active participants in their dental health. Her dedication to providing top-notch care to everyone shines through in the happy smiles leaving our office!
Dr. Tran is a member of the Spears Study Club, Dr. Todd Davis Dental Splint Therapy Study Club, and Peachtree Submit Study Club. Dr. Tran has two beautiful sons, Maxwell and Emerson and together with her family, they love to travel; so far, their travels have taken them to Vietnam, Korea, Thailand, Singapore, France, Spain, Italy, England, Puerto Rico, Mexico, Jamaica, Barbados, St. Thomas, St. Kitts, St. John, Canada, and many states in America! She would like to continue her travels to learn more about other cultures. In her spare time, she enjoys spending time with her family, biking, hiking, playing tennis, and playing poker.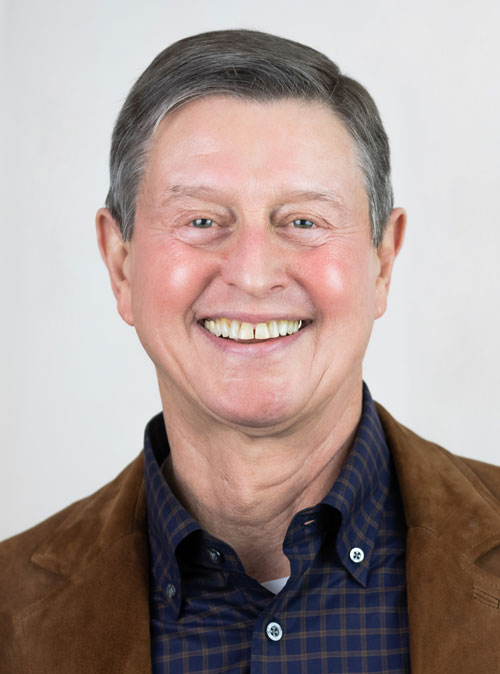 William W. Hinkle, DDS
Dr. William Hinkle is originally from Sandy Springs, GA and graduated from Sandy Springs High School. He attended the University of Alabama on a football scholarship in the fall of 1963. He attended the University of Georgia from 1964 until 1967. In June of 1967, he graduated from Emory Dental School. From there he entered active duty into the US Air Force and was honorably discharged as a regular officer with the rank of Major in July of 1975.
Dr. Hinkle established his dental practice in Acworth in July of 1975 and practiced there until February of 2019. He has been married to his wife, Geri, for 35 years and they have 2 granddaughters ages 8 and 9. He enjoys traveling the world with his wife, hiking, shooting and watching football.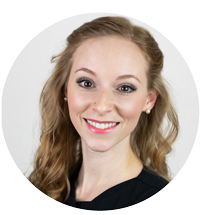 Brittany Catrino, Hygienist
Schedule Your Appointment
We are currently accepting new patients, and would love to meet you and learn more about your dental health goals and concerns. Whether you are new to the Acworth, GA area or are just looking for a new dental care experience, give us a call at 770-974-6868. A member of our staff can help you schedule your first consultation, and answer any questions you may have about our practice.